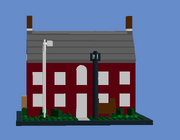 Boxwood Hall is a Lego Architecture model made in 2014. Located in New Jersey. Its apart of the Landmark series. It was home of Elias Boudinot.
Info
Architect and Owner: Unknown (someone can find out and fill this in)
Story: Boxwood Hall was home to Elias Boudinot,President of the Continental Congress. It was sold to Jonathan Dayton who lived there until 1824. It the 2004 it was at risk of serious damage. It is now a historical house musuem.
Facts: Opened: 1750
Architectial Style: American Colonial
Floor Area: 0.4 Acres (0.16 ha)
Location: America,New Jersey,East Jersey Street,Elizabeth
Materials: Wood,Brick and Stone
Ad blocker interference detected!
Wikia is a free-to-use site that makes money from advertising. We have a modified experience for viewers using ad blockers

Wikia is not accessible if you've made further modifications. Remove the custom ad blocker rule(s) and the page will load as expected.