If they had made a LEGO Guitar Hero Video Game these are the songs that should be in it!:

1/8: 5 Brooks & Dunn – "Believe"
Buckethead - "Jordan"
The Pretenders - "Tattoed Love Boys"
"Ghost Busters Theme Song"
Encore: The Amazing Royal Crowns - "Mr. Fix It"
2/8: 5 Electric Light Orchestra - "Don't Bring Me Down"
Rush - "In The Mood"
Bobby Pickett - "The Monster Mash"
Guns n Roses - "Welcome to the Jungle"
Encore: Ratt - "Round n Round"
3/8: 5 Symphony X - "Church of the Machine"
Unknown - "Graveyard Shift"
Michael Jackson - "Thriller"
Pat Benetar - "Hit Me With Your Best Shot"
Encore: Jane's Addiction - "Stop"
4/8: 5 Edgar Winter Group - "Autumn"
The Romanes - "Theme From Spider-Man"
Twisted Sister - "I Wanna Rock"
Motley Crüe - "Shout at the Devil"
Encore: Hot Chelle Rae Pepper - "Tonight Tonight"
5/8: 5 Ron Jarzombek - "It Looks Like a Chicken"
Black Sabbath - "War Pigs"
Wolfmother - "Woman"
Cheap Trick - "Surrender"
Encore: Smash Mouth - "Im A Beliver"
6/8: 5 Judas Priest - "Metal Meltdown"
Queen - "Good Old-Fashioned Lover Boy"
Carl Doughlas - "Kung Fu Fighting"
Blur - "Song 2"
Encore: Van Halen - "You Really Got Me"
7/8: 5 Alice Cooper ft. Joe Satriani, Steve Vai & Nikki Sixx - "Feed My Frankenstein"
The Romantics - "What I Like About You"
Freezepop - "Less Talk More RokK
Jane's Addiction - "Been Caught Stealing"
Encore: Guns n Roses - "Sweet Child O Mine"
8/8: 5 Buckethead - "Stick Pit"
The Jackson 5 - "ABC"
Cardigans - "My Favorite Game"
Warrant - "Cherry Pie"
Encore: Monkey Steals the Peach - "Guitar Hero"
Extra Songs: The Clash - "Should I Stay or Should I Go"
Foo Fighters - "Monkey Wrench"
The Rolling Stones - "Can't You Hear Me Knocking"
Iron Maiden - "El Dorado"
Joe Esposito - "You're the Best"
King Crimson - "Lark's Tongues in Aspic (Part III)"
Muse - "Time is Running Out (Live)"
Paul Stanley - "Live to Win"
Penguin Cafe Orchestra - "Horns of the Bull"
Rammstein - "Amerika"
Reverend Horton Heat - "Lie Detector"
Lit - "My Own Worst Enemy"
Nine Inch Nails - "Down in It"
Scarling - "Art of Pretension"
ZOEgirl - "You Get Me"
Total Songs: 55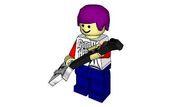 Ad blocker interference detected!
Wikia is a free-to-use site that makes money from advertising. We have a modified experience for viewers using ad blockers

Wikia is not accessible if you've made further modifications. Remove the custom ad blocker rule(s) and the page will load as expected.