This article is Fan-fiction. Please do not edit without the creators permission, unless adding categories or improving grammar.
Lego Hellboy is a video-game based off the comic books by Mike Mongolia and the succes of the film series. The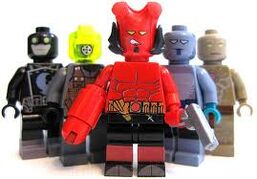 hub is the B.P.R.D. HQ The 2 starter characters are Hellboy and Abe Sapien. Liz Sherman, Agent Clark, Trevor Brutterholm, Lobster Johnson, Roger and Panya are unlockable. Johann Kraus is a PS3 only character.
Worlds
Gut-Wrenching Grigori Rasputin
The bosses are
Ilsa Von Haupstein
Karl Ruprecht Kroenen
Grigori Rasputin
Baby Yaga's Big Bad Revenge
The bosses are
The Ogdru Jahad's Last Stand
Gruagach
Herman Von Klempt
The Orgdu Jahad
Refferences to the films
Hellboy: The Movie
Abe Sapien and Roger, unlike the others, resemble how they look in the film. (Even though Roger is only briefly seen)
The fight with Grigori resembles the war in the beginning of the film.
The enemies in the Kroenen level resemble the monsters fought by Hellboy in the begining of the film.
Liz Sherman has a cameo in story mode, where she has the same nightmare she had in the movie, where she is a little girl getting attacked by bullies.
Hellboy: The Golden Army
Golden Army members can be seen in the Baby Yaga level.
The Golden Army is mentioned by Grigori Rasputin.
The Prince Nuada is briefly seen along with Caypor in the first cutscene of the Koku episode.
The Ogdru Jahad fight is similar to the fight with big green monster summoned by Nuada.
Hellboy: Blood and Iron
Monsters resembling the vampire from this film are fought as Ilsa and Baby Yaga's hench-woman.
Unmensch mentions his former employers, Caypor and the vampire, before battling Hellboy.
Ad blocker interference detected!
Wikia is a free-to-use site that makes money from advertising. We have a modified experience for viewers using ad blockers

Wikia is not accessible if you've made further modifications. Remove the custom ad blocker rule(s) and the page will load as expected.