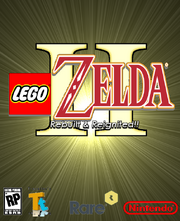 LEGO Zelda II: Rebuilt & Reignited!! (Jap.: レゴゼルダ2:リビルトと再燃!) is an computer video game co-developed by TT Games and Rare (who took the place of the now-defunct Warthog Games). It was released in late 2013 exclusively for the Nintendo Wii game console.
Overview
LEGO Zelda II will follow a premise similar to its predecessor, but accordingly focus on storyline elements from "The Wind Waker","Twilight Princess," "Skyward Sword," and "Breath of the Wild." Elements from "The Four Swords" and "Oracle of Seasons/Ages" are also featured in this title.
Plot
Set centuries after Link, the young Hylian hero who appeared from nowhere, vanquished the cruel wizard Ganondorf from the land of Hyrule and saved its citizens, two devout followers of the vile wizard-king are out to resurrect their former master so he can unleash havoc on the peaceful people of Hyrule once more!
Alternate Title Changes
Following the heels of the first LEGO Zelda, this game changes the names of its source material's subtitles to avoid copyright issues. The new names are:
"Link of the High Seas" (The Wind Waker)
"Wolf's Tale" (Twilight Princess)
"The Sword from Cloud Nine" (Skyward Sword)
"A Brave New World" (Breath of the Wild)
Ad blocker interference detected!
Wikia is a free-to-use site that makes money from advertising. We have a modified experience for viewers using ad blockers

Wikia is not accessible if you've made further modifications. Remove the custom ad blocker rule(s) and the page will load as expected.