This article is Fan-fiction. Please do not edit without the creators permission, unless adding categories or improving grammar.
For Wii U, Xbox 360, PS3, 3DS, DS, and PS Vita.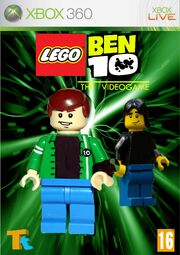 Playable Characters
Heroes
Ben
Gwen (DS and 3DS skin with cheat code)
Humungosaur
Lodestar (exclusive on the PS3 version)
Shocksquatch
Rath
Benvictor
Gravattack
Ball weevil
Kickin Hawk
Jury Rigg
Four Arms
Heatblast
Spitter (Exclusive on the XBox 360 version)
Diamondhead
Walkatrout (Only in Level 1) 
Molestache (Only in Level 1) 
Pesky Dust (Only in Level 1) 
The Worst (Only in Level 1) 
Waybig (Only in Level 4 to fight Trumbipulor)
Upchuck (DS and 3DS with cheat code)
Bosses
Albedo
Highbreed Commander
Forever King Patrick
Ragnarok
Charmcaster
Big Chill
Darkstar
Khyber the Huntsman
Malware
Enemies
Xenocyte
Metal Xenocyte
DNAlien
Forever Knight
Laser Lancer Forever Knight
Laser Sword Forever Knight
DNAlien Egg Thrower
Forever Ninja
Heavy Forever Knight
DNAlien Worker
Heavy Forever Ninja
Laser Sword DNAlien
Electric Xenocyte
Metal DNAlien
Flying DNAlien
Galvan
Heavy Galvan
Galvan Charger
Magnetic Galvan
Spheroid
Spheroid Spitter
Polar Manzardill
Polar Manzardill Freezer
Megawatt
Snakeray
Spidercat
Chromobear
Highbreed Guard
Highbreed Soldier
Levels
Outbreak: villains are Psyphon, Liam, Fistina and Dr Psychobos (Boss)
Manny happy returns: villains are Warlord Gar and Princess Looma (Boss)
Gone Fishin' : villains are Machaneers, Krakken (mini boss) and Captain Krook (Boss)
Blukic and Driba go to mr Smoothy's : villains are mouse minions and Trumbipulor (Boss)
Malefactor : 3 bosses :- Malware, Khyber and Khyber's Dog
Ad blocker interference detected!
Wikia is a free-to-use site that makes money from advertising. We have a modified experience for viewers using ad blockers

Wikia is not accessible if you've made further modifications. Remove the custom ad blocker rule(s) and the page will load as expected.