Lego Call of Duty is a game created by Traveller'sTales and produced by Activision. It is based on the award winning series created by both Infinity Ward and Treyarch, revolving mostly on the Modern Warfare and Black Ops saga.
Locations
Players can explore famous locations in both of the sagas mentioned above and different timelines. There are only four timelines in the game:
World War Two- This is where the events of World At War takes place.
First Cold War-This is where the events of Black Ops and some of Black Ops 2 take place.
World War Three-This is where the events of the entire Modern Warfare saga takes place.
Second Cold War-This is were some events of Black Ops 2 take place.
There is no main hub,allowing you to start in any location that you have unlocked, however. Below you will see every level and the games, which are six in total.
Black Ops Saga(1942-2025)
World At War
Chapter 1:Marine Raiders
Chapter 2:World at War
Chapter 3:Eviction
Chapter 4:Black Cats
Chapter 5:Breaking Point
Chapter 6:Downfall
Black Ops
Chapter 1:Operation 40
Chapter 2:Vorkuta
Chapter 3:S.O.G.
Chapter 4:Project Nova
Chapter 5:Rebirth
Chapter 6:Redemption
Black Ops 2
Chapter 1:The Past and the Present
Chapter 2:Time and Fate
Chapter 3:Karma
Chapter 4:Suffer with Me
Chapter 5:Cordis Die
Chapter 6:Judgement Day
Modern Warfare Saga(1996-2017)
Modern Warfare
Chapter 1:Crew Expendable
Chapter 2:Black Out
Chapter 3:Shock and Awe
Chapter 4:All Ghillied Up
Chapter 5:Sins of the Father
Chapter 6:Game Over
Modern Warfare 2
Chapter 1:Team Player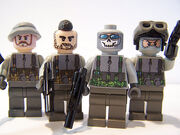 Chapter 2:Task Force 141
Chapter 3:World War Three
Chapter 4:Whiskey Hotel
Chapter 5:Loose Ends
Chapte
r 6:Endgame
Modern Warfare 3
Chapter 1:Black Tuesday
Chapter 2:Disavowed
Chapter 3:Delta Force
Chapter 4:Blood Brothers
Chapter 5:Scorched Earth
Chapter 6:Dust to Dust
Ad blocker interference detected!
Wikia is a free-to-use site that makes money from advertising. We have a modified experience for viewers using ad blockers

Wikia is not accessible if you've made further modifications. Remove the custom ad blocker rule(s) and the page will load as expected.