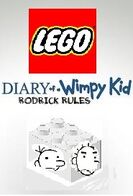 Level one: Roller Rink Trobule
Characters: Greg (Skates), Rowley (Skates)
Impress Holly with roller skating. Get 5 hearts from Holly
Level two: Soccer Match
Chracters: Greg (soccer), Rowley soccer), Chirag (soccer ), Fregley (soccer
)
Win the Match!...and Impress Holly...
Boss: Patty Farewell (4 heart)
Level three: Home Party
Characters: Greg Heffley, Rowley Jefferson (to part 1), Rodrick Heffley (Party) (beetween part 2)
Escape from the basement and clean up after the party
Level four: Chirag Revenge
Characters: Greg Heffley (School), Rowley Jefferson (School)
Do not give up of Chirag
Boss: Chirag (1 heart)
Level five: Rodrick Joke
Characters: Greg Heffley (Hood), Rodrick Heffley (Hood)
Escape before Coach Maclone
Boss: Coach Maclone (6 hearts)
Level six: Nursing home
Characters: Greg (naked), Granddad
Recover Diary!
Boss: Mature Lady (3 hearts), Security oficer (4 hearts), Rodrick Heffley (10 hearts) Level 7 coming soon
All Characters:

-
Ad blocker interference detected!
Wikia is a free-to-use site that makes money from advertising. We have a modified experience for viewers using ad blockers

Wikia is not accessible if you've made further modifications. Remove the custom ad blocker rule(s) and the page will load as expected.