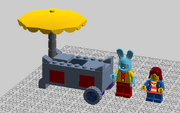 The Nice Cream Stand and its owner, as well as a mini figure of Frisk are all available in this set. 34 pieces in the Nice Cream Stand, 2 mini figures. Based on its appearance in the indie game Undertale by Toby Fox
Appearance
The Nice Cream Guy appears a couple times during the events of the game, always leaning on his stand. He comments that he does not get much business until Frisk buys Nice Cream from him.
Ad blocker interference detected!
Wikia is a free-to-use site that makes money from advertising. We have a modified experience for viewers using ad blockers

Wikia is not accessible if you've made further modifications. Remove the custom ad blocker rule(s) and the page will load as expected.