Story
Lego Worlds Takes Place Many Years After Lego Universe. Many Minifigures Were Injured After The Battle Of Nimbus Station And Another Place Was Built Called Nimbus Tower. A Minifigure (You) Was Transported From Another Universe. You Are Shown Around And Is Given The Option To Customize Yourself And Fly Around With Your Space Ship. You Are Given A Robot Companion To Go To Places With. 
Gameplay
The Gameplay Is Alot Like Lego Universe With Some Differences
You Can Fly To Other Planets In A Ship
Customize Yourself At Any Time
More Weapons
Can Control Characters In Your Party (Apart From Other Players)
(Lego Logo)
(Black Figure Walks Forward)
Black Figure: I....I Am The Monster Who Hides Under Your Bed
(Player Character Slashing A Black Figure)
Black Figure: The Thing You Fear Most
(Player Character Shooting At Several Black Figures)
(Black Figure Walks Forward, Resembling Lord Garamadon But With White Hair And Armour)
Black Figure: I...Am.....The Darkest Element!!!
(Lego Worlds Is Formed Into Words)
(The Four People From The Four Factions In Lego Universe Appear)
Trivia
The Darkest Element Is Voiced By Lord Garmadons Actor.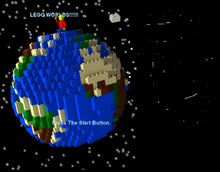 LEGO Worlds
Developer(s):
Travellers Tales
Publisher(s):
Warner Bros. Interactive Entertainment
Release date:
U.S: 7th Of November 2014

EU: 11th November 2014 AUS: 1st Of December 2014

Genre:
Massively Multiplayer Online Game
Game modes:
Multiplayer
Ratings:
10/10
Platform(s):
Playstation 3 And 4, Xbox 360 And One And PC
Lego Worlds Is An Online-RPG Console Game For Playstation 3, Playstation 4, Xbox One And Xbox 360. The Game Was Released November 7th 2014. It Is A Sequel To Lego Universe
Ad blocker interference detected!
Wikia is a free-to-use site that makes money from advertising. We have a modified experience for viewers using ad blockers

Wikia is not accessible if you've made further modifications. Remove the custom ad blocker rule(s) and the page will load as expected.