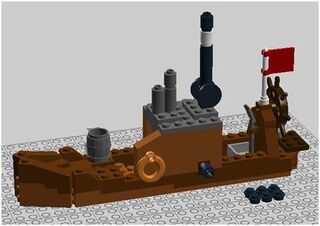 Description:
Desperate to find Blackwood, Watson visits Holmes' old friend, Captain Tanner. As they fly down the Thames towards the riverside abatoir, with the crazy Captain Tanner behind the wheel, can Watson remain on the ship shoveling coal, or will he find himself thrown overboard by the crashing waves?
Set Features
Captain Tanner's Ship features:
162 pieces!
Two minifigures - Captain Tanner with big beard, and Watson with his cane!
Captain Tanner's ship with wheel, flag and three chimneys!
Coal scuttle and shovel!
Furnace with collapsing interior!
Flick-fire life ring!
Three bottles!
A starfish!
A barrel!
And a fish!
Parts of the Set
Captain Tanner's Ship
Tanner's ship measures approximately 19cm (7.5") long, 4cm (1.5") wide, and 11.5cm (4.5") high. It features a long narrowboat with a small furnace in the centre, from which three individuals chimneys rise. At the front of the boat is a raised area and at the back is the Captain's platform, complete with a wheel and two bottles (a third is in Tanner's hand). There is a flag above the Captain's platform and a starfish stuck to the side of the furnace. In front of the platform is a small coal scuttle with six pieces of coal and a shovel. Attached to the extended wall of the furnace is a flick-fire missile with a life ring that can be fired. At the front of the ship is a barrel where a fish can be stored.
This set is based on the scene from the 2009 film, where Holmes and Watson sail on Tanner's ship, trying to find the abatoir by the river. Tanner was portrayed as a drunkard, hence the bottles. The ship is shown as a crumbling and derelict ship, though no starfish is actually seen in the film. Watson struggled to load the coal, hence the scuttle, but the collapsing furnace is included for playability. The flick-fire life ring links to a later scene in the 2009 film, where Watson throws a life ring out to Holmes, after he dives into the Thames from Coward's window.
Characters
See Also
Ad blocker interference detected!
Wikia is a free-to-use site that makes money from advertising. We have a modified experience for viewers using ad blockers

Wikia is not accessible if you've made further modifications. Remove the custom ad blocker rule(s) and the page will load as expected.