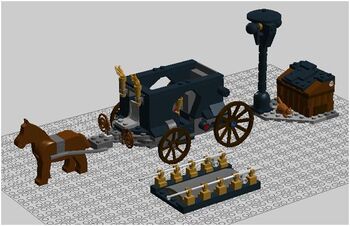 Description:
After Irene Adler visits Sherlock Holmes, the great detective must quickly follow her through the streets of London to find out who she is working for, and soon catches up with the carriage. Will he be able to catch the mysterious Professor she is meeting with, or will he fly out of the trap door and escape?
Set Features
Pursuing After Adler features:
271 pieces!
Three minifigures - Irene Adler with flowers, Professor Moriarty with top hat, and Sherlock Holmes as a beggar!
Horse-drawn carriage with room for Irene Adler and Moriarty inside!
A trap door at Moriarty's seat!
A street corner with a lamp!
A coal bunker!
And a kitten!
Parts of the Set
Professor Moriarty's Carriage
Moriarty's carriage, excluding the horse, measures approximately 13 cm (5") long, 8 cm (3") wide, and 7 cm (2.75") high. It features a horse and reins at the front, and a driver's seat with two whips and two lanterns above it. There is also a small window between the driver and the inside. There is a space for Irene Adler by the window and two swords next to it. The entrances have opening doors. Moriarty's seat has a goblet and diamond by it. There is also a brick on the side which, when pulled, allows Moriarty's seat to fall back and the Professor to fly out of the carriage. The roof has two decorative banisters on gold stands.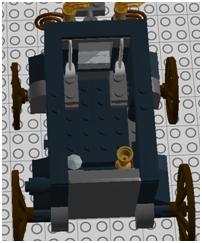 This part of the set is based around Moriarty's carriage from the 2009 film, seen after Sherlock follows Irene Adler from 221b Baker Street. In the film there was a driver but because of the size of the set he has not been included. Also, there are no swords, diamonds or goblets in the film. These have been included to show that the carriage is more sophisticated. The trap door, where Moriarty's seat falls away, is for playability purposes.
Street Corner
The street corner measures approximately 5 cm (2") wide and deep. The lamp post measures approximately 10 cm (4") high. It also features a coal bunker with a sloping roof and over twenty coal pieces inside. There is also a kitten.
This part of the set is based upon the coal bunker that Sherlock Holmes falls into while pursuing Irene Adler. It is not on a street corner, but the alleyway beside 221b Baker Street. The street lamp is based around those seen in the background as he approaches Moriarty's carriage. There can be seen very briefly a kitten in the background as he makes his way down the alleyway. They are all together on a street corner for space.
Characters
See also
Ad blocker interference detected!
Wikia is a free-to-use site that makes money from advertising. We have a modified experience for viewers using ad blockers

Wikia is not accessible if you've made further modifications. Remove the custom ad blocker rule(s) and the page will load as expected.