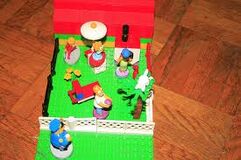 This article is Fan-fiction. Please do not edit without the creators permission, unless adding categories or improving grammar.
Simpsons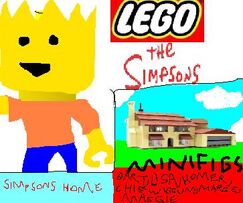 House
is a
LEGO Simpsons
set in wave 1. It features Homer, Marge, Lisa, Bart, Maggie and Chief Wiggum.
The items included in the set are a tree, an umbrella, grill, paintings, TV, couch, beds, dressers, bench, flowers, basketball, plate, table and a bunny stuffed animal.
Inside the house is the living room, Lisa's room, Bart's room, Homer and Marge's room, Maggie's room, the kitchen and the garage.
Description
"The Simpsons Family is having a cook-out! Push down the tree to open up the fence for Chief Wiggum! Minifigures include Homer, Bart, Marge, Lisa, Maggie and Chief Wiggum."
Minifigures
Ad blocker interference detected!
Wikia is a free-to-use site that makes money from advertising. We have a modified experience for viewers using ad blockers

Wikia is not accessible if you've made further modifications. Remove the custom ad blocker rule(s) and the page will load as expected.